Stand Out From Your Competitors
Make a lasting impression on potential clients by opting for our highlighted listing feature. With a highlighted listing, your profile will take centre stage in local search results, ensuring maximum visibility and impact. Stand out from the competition and capture attention like never before.
Want to Elevate Your Visibility and Dominate Local Searches? Take your prominence to the next level with our exclusive 'featured listings' facility. Handpick a specific treatment, product, or condition, and choose the county where you want to shine the brightest. By securing a 'top slot' on the search pages for six months, you'll enjoy unrivalled visibility and top billing above all other service providers in that location.
Don't settle for blending in when you can stand out in your target market. Invest in our premium features and watch your clinic soar to new heights of success. It's time to dominate local search and attract eager clients.
Via Your Consumer-Facing Profile, You Can:
Customise your pages with an unlimited clinic profile that reflects your unique brand
Generate leads swiftly with a direct contact form for seamless client connections
Showcase an impressive array of images and galleries to captivate your audience
Provide comprehensive contact details with tracked click-throughs, social media links, and an automatic Google™ map
Engage with clients through various social media platforms and share updates on your clinic's blog
Display essential information such as opening times, pricing for treatments, product offerings, and condition-specific treatment options
Highlight your outstanding services and facilities, including weekend appointments, disabled access, and free parking
Promote special offers and upcoming events on our consumer-facing social media platforms
Introduce your staff and put potential clients at ease with captivating biographies and images
Showcase your accreditations to build trust and credibility
Enhance your online presence with engaging videos hosted on platforms like YouTube
Encourage patients and clients to leave reviews for improved SEO performance
Gain visibility, attract new clients, and build a solid reputation with our comprehensive features
Our dedicated admin team can enhance your consumer-facing profile, ensuring it is comprehensive and compelling. We are here to assist you in improving your profile, filling in any gaps, and making it a powerful tool to attract and engage potential customers. With our expertise, your profile will shine, leaving a lasting impression on visitors and driving meaningful interactions.
Did you know, ConsultingRoom.com has over 1,000,000 web pages?
This means your clinic will benefit from in-depth treatment information pages that provide comprehensive details about products and treatments. Our improved FAQ pages offer more specific treatment options, allowing you to provide valuable information and guidance to potential clients. By linking to these pages, you can address specific concerns and showcase your expertise. Additionally, through these enhanced pages, we provide various channels for people to find and contact your clinic, ensuring maximum accessibility and convenience.
Expand your reach, connect with more potential clients, and elevate your clinic's visibility with our comprehensive suite of features.
Take advantage of our special offers section to promote any promotional deals, discounts, packages, or special events happening at your clinic direct to potential clients.
Whether it's percentage discounts, multi-buy offers, makeover packages, free treatments, referral programs, loyalty schemes, gift vouchers, skincare product promotions, or exclusive invite-only events, you can showcase them to potential clients.
These selected special offers are also featured on our consumer-facing Cosmetic Guru social media pages, expanding your reach even further.
Consumer-Facing Social Media Audiences
Each offer listed on your consumer-facing profile comes with a reference code for easy tracking, and all click-through links are monitored to provide valuable statistics for your clinic.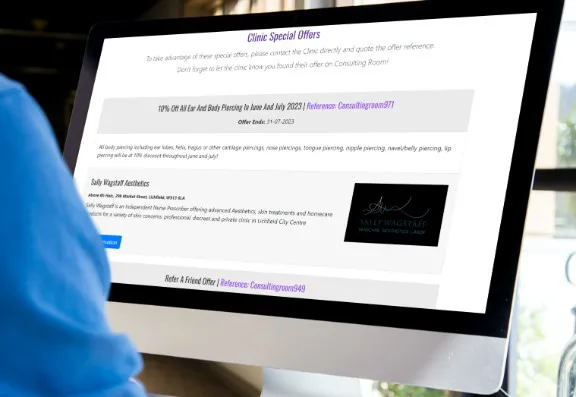 Gain full access to your clinic's statistics in your Members Area, allowing you to closely monitor performance and achieve optimal return on investment (ROI).
Monitor and analyse performance metrics to gain valuable insights and make informed decisions.
Track the Annual Click Metrics for Each of Your Links:
Direct contacts via your web form
Phone number
How many people have clicked on your phone number
Website
Twitter
Facebook
Blog
LinkedIn
YouTube
Pinterest
Instagram
Monitor Annual Page Views for Each Page on Your Consumer-Facing Profile:
Overview
Treatments
Gallery
Videos
Staff
Special Offers
Reviews
With this valuable information at your fingertips, you can optimise your operations, identify areas for improvement, and maximise your return on investment (ROI). Stay in control of your clinic's success and drive growth with data-driven decision-making.