This CPD-certified course will unlock the potential to elevate your staff's performance, increase sales, and propel your clinic business to new heights.
If you've spent any amount of time in the aesthetic industry, you know that the art of sales conversion is a crucial aspect of our business. It can be challenging to master but incredibly easy to get wrong.
Consider this scenario:
You create a compelling marketing campaign. Check.
Inquiries for treatments start pouring in. Check.
Your well-trained reception staff successfully schedule preliminary consultations. Check.
Prospective clients dutifully attend the consultations. Check.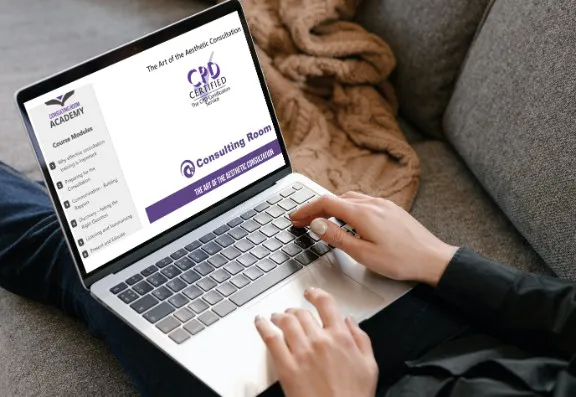 Here's the problem: They don't book a treatment or course with you. Ever wondered why? If you've experienced this, you've probably pondered where things go awry and how to fix it. That's where the Consulting Room Academy's CPD-certified training course, "Therapist Training - The Art of the Consultation" comes into play.
We recognise the critical importance of effective communication skills in business success. Therapists and aestheticians are the face of a clinic, and their interactions with customers have the power, when done correctly, to generate thousands of pounds in revenue by converting potential clients into loyal customers. This online course is specifically designed to equip them with the necessary skills.
This is an ideal course for every clinic that wants to increase its profits and best of all?
It's absolutely FREE for Consulting Room Members!
Don't miss out on this incredible opportunity to enhance your sales conversion skills and drive significant business growth. Enrol in the CPD-certified therapist training course today and unlock your full potential.
What Our Members Say:
The Consulting Room Group's training course has transformed our reception team. They are now able to build rapport with callers, address their concerns, and guide them towards booking a consultation. The impact on our business has been remarkable.
Very effective training.
The aestheticians training course was exactly what our team needed. The course materials were well-structured, easy to follow, and packed with valuable information. Our aestheticians learned advanced techniques, gained expertise in skincare products, and honed their client consultation skills. The course not only improved our service quality but also boosted our revenue as satisfied clients started recommending us to others. Investing in this training was a wise decision, and we are grateful for the ongoing support.
Very helpful and informative.
Good overall training. Our aestheticians have gained a deeper understanding of their craft and are now able to deliver exceptional service to our clients. The course has elevated our clinic's reputation and resulted in a significant increase in satisfied customers. Highly recommended!
Very informative, learnt a lot.