Each quarter Consulting Room Members can look forward to receiving an 80-page quarterly digital aesthetic medical speciality magazine. Each issue is packed with industry news and content on aesthetic and clinical practice, nutrition and running a cosmetic business, in line with an overall theme. Themes covered to date include Wellness and Internal Medicine in Aesthetics, Complications Management, Skin Health Special, Diversity and Inclusion, Regenerative Medicine, Body Contouring and Weight Loss, Menopause in Aesthetics, Emerging Products and Technologies, Aesthetic Gynaecology and Hormones, and Hyperhidrosis Management to name a few. All of our back issues can be accessed free of charge in our magazine digital archive.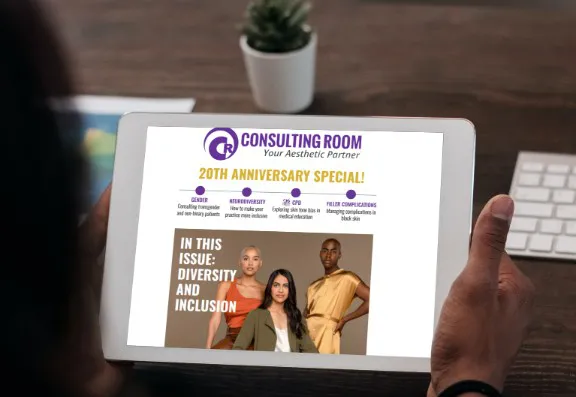 Several articles within each issue of the magazine are CPD-certified and provide a wealth of educational content for clinicians and their staff. There is also an option to download and complete a CPD Reflective Form, provided by ConsultingRoom.com Ltd in association with the British College of Aesthetic Medicine (BCAM) and the British Association of Cosmetic Nurses (BACN), to document the learning experiences after reading this publication.
Suitable for aesthetic business owners, medical and non-medical practitioners, and other staff members - the Consulting Room Magazines contain CPD-certified content and reflective learning forms which can be used by those requiring additional content for their CPD logs.
Did you know?
Since 2009, we have been producing a Magazine.
What Our Readers Say:
I have just read your first issue of Consulting Room magazine, and can I congratulate you on a breathe of fresh air. Such a pleasure to read factual, informative content, instead of the usual glamorous, self-promotional garb that has flooded the recent aesthetic media.
- Lynn Warren RGN, NIP, The Retreat Beauty Clinic
The Consulting Room magazine is an exceptionally useful tool for aesthetic practitioners the CPD content and articles are reliable, readable and applicable. In a fast-paced industry that constantly evolves, this publication condenses the facts and delivers exactly what you need to know.
- Yvonne Senior, RN, INP, BSc Derm, MA, Cert Ed, PIAPA Chair, Aesthetic Nurse and Educator
Consulting Room (magazine) issue one is a great publication - really high-quality articles, well written, well presented, and I even used your CPD reflective template."
- Dr Martyn King, Cosmedic Clinic
I just wanted to say a huge well done for such a great new quarterly magazine. I have to say you created an excellent balance of informative current articles, with a terrific amount of relevant informative material... Also, it was a pleasant change not to be bombarded with advertorials/adverts. I look forward to reading the next edition.
- Julie Scott RGN, NIP, Facial Aesthetics
Just read the first issue of the new Consulting Room magazine, and have to say it is very impressive! There really is something for everyone in our clinic - whether it is treatment/equipment based for our practitioners, or marketing-based for me. Then on top of that, there are a number of articles that really capture the interest, whoever you are. I particularly enjoyed reading about the global issue of Vitamin D deficiency and the articles around nutrition. I highly recommend the magazine to other clinics and think it is a worthwhile publication to spend a bit of time reading. And let`s face it, in the digital age we live in, there is something quite nice about having an actual magazine to hold onto!
- Mara Sturton, Marketing & Sales Manager, Grampian Cosmetic Clinic
Its a very useful publication from a source with good authority. I have taken action on more than one article that I have read.
- rtwskin
Look forward to reading the content of the magazine each month. I find the topics relevant and enjoy reading the articles. Great mix of guest authors with a wide skill set.
- Facial Aesthetics With Kelly