Product Summary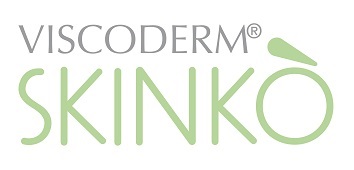 Viscoderm Skinko® and Viscoderm Skinko E® are two pre-mixed mesotherapy cocktails acting on both the causes and effects of skin ageing. They are manufactured by IBSA Farmaceutici Italia and distributed in the UK & Ireland by HA-Derma Ltd.
Generic name
Anti-ageing and antioxidant complex of vitamins, minerals and amino acids with added non-cross linked hyaluronic acid (HA) for mesotherapy injection.
What does it contain?
Viscoderm Skinko and Viscoderm Skinko E contain an anti-ageing and antioxidant complex (ingredients listed below) with added non-cross linked hyaluronic acid.
Skinko has 2mg of HA in 5ml and Skinko E has 32mg of HA in 5ml.
How is it made?
IBSA's hyaluronic acid is an ultrapure grade HA, produced through a patented biofermentation process which ranks worldwide as "top quality" in terms of purity, safety and its high resistance to thermal production processes.
Is a skin test required before treatment?
No allergy test needed
Licenced status
Medical device. CE marked.
Should be used by
Trained members of the medical profession only.
Product range
There are 2 different formulations for Viscoderm Skinko available – Skinko and Skinko E.
Intended for use to improve skin brightness, deep hydration, skin roughness and protect and repair damage caused by UV rays.
Not to be used in
• Clients with allergies or known reactions to hyaluronic acid
• Clients with skin inflammation or allergies
• Clients who are susceptible to hypertrophic scarring
• Pregnant or breastfeeding women
• Clients taking certain medications – will be detailed at your consultation
Duration of effect
Four treatments with three week intervals per cycle. Two cycles per year are recommended. The products are injected in the superficial dermis of the face, neck, décolleté and hands, also suitable for use on larger body areas.
Reported side effects
Transient erythema (redness), swelling, pain, itching, discolouration or tenderness at the injection site.
Costs
This depends on the area treated and how much is required, and the practitioner doing the treatment, but price ranges are in the region of £150+ per treated area.
Clinical Results and Before and After Photographs
In a manufacturer backed study, four treatments were performed on the cheeks, neck, hands and décolletage of 59 patients (37-60 years) at the baseline treatment visit (T0), and after 3 (TW3), 6 (TW6) and 9 weeks (TW9). The following aesthetic results were assessed at 6, 9 and 12 weeks.
• Statistically significant improvement of skin colour homogeneity after 3 treatments - 16% increase in skin brightness.
• The positive difference between superficial and deep hydration measured at TW12 suggests that Viscoderm Skinko E improves deep hydration.
• A clinically and statistically significant decrease (36.6%) in the erythema visual score vs untreated skin and placebo, demonstrates the photoprotective (protection from UV rays) efficacy of Viscoderm Skinko E
• During the study a lightening effect on hyperpigmentation was reported.
• Statistically significant reduction in skin roughness, by 19.7% after only 2 treatments.
Skin Brightness

UV Damage Repair
Skin Roughness

Before and after photographs are real patients, your results may differ
Photos provided courtesy of IBSA Farmaceutici Italia
Clinical Trials
Antiaging, photoprotective, and brightening activity in biorevitalization: a new solution for aging skin
Adele Sparavigna, Beatrice Tenconi, Ileana De Ponti, Derming, Clinical Research and Bioengineering Institute, Monza, Italy.
Clinical, Cosmetic and Investigational Dermatology 2015:8 57–65

Do you have a question? Ask one of our experts NOW