Product Summary
The Teosyal® range, manufactured in Switzerland by Teoxane Laboratories and distributed in the UK by Lifestyle Aesthetics, consists of several monophasic hyaluronic acid based products of non-animal origin, which are highly biocompatible, offering patients immediate and long-lasting results.
The Teosyal® range has a reduced protein and bacterial endotoxin level resulting in less hypersensitivity reactions.
Teosyal® was launched in the UK in 2005.
Generic name
Non animal stabilized hyaluronic acid.
How is it made?
By bacterial fermentation from streptococci bacteria.
Is a skin test required before treatment?
No. The Hyaluronic Acid is 100% non-animal originan and non-allergenic, no allergy test is required prior to injection
Is it temporary or permanent?
Hyaluronic acid is completely broken down within the skin over a period of months, eventually leaving no trace of the filler.
Licenced status
Medical device.
Should be used by
Trained members of the medical profession only.
Product range
Teosyal Meso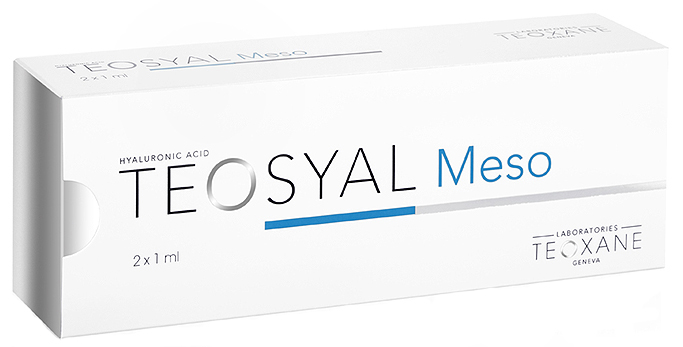 2 x 1ml syringes per box.
It is injected into the superficial dermis and is recommended for the rehydration of the dermis (of the skin), on the face, neck, hands and décolletage.
Not to be used in
Individuals with a known hypersensitivity to hyaluronic acid.
Pregnancy and breast feeding.
Duration of effect
The manufacturers state that it is necessary to anticipate 2 to 3 treatment sessions at intervals of 2 to 4 weeks, then one session every 2 or 3 months as maintenance treatments.
Reported side effects
Transient erythema (redness), swelling, possible discomfort at the implant site, this usually resolves in a few days. Any persistent reaction must be reported to your practitioner.
Costs
This depends on area treated and how much is required, and the practitioner doing the treatment, but ranges are in the region of: £200 to £400 per treatment.
For more information please visit Lifestyle Aesthetics` website.
Do you have a question? Ask one of our experts NOW