Product Summary
The Soprano ICE is the latest hair removal laser system from Alma Lasers, and is distributed in the UK by ABC Lasers. It was originally launched in the UK in 2012.
The Soprano ICE laser hair removal system offers almost pain free treatment due to its revolutionary cooling system. It utilises Super Hair Removal (SHR) technology for smoother results and for minimal discomfort. It can be used on all skin types (including tanned skin, which is a first for laser hair removal), on any body part, all year round, for safe, permanent removal for anyone, at any time.
The Soprano ICE system is a step forward from the previous Soprano lasers XL and Xli. Ice offers less painful hair removal, thanks to the cooling pumps within the applicator. The applicator is lighter than in previous models, whilst maintaining performance and safety. In addition, the SHR technology has more than been clinically proven to offer the highest coverage rates, for smoother results (1).
Technical Specifications
The Soprano ICE Laser offers both standard Laser Hair Removal (HR) and Super Hair Removal (SHR) – each using a diode light source and an 810nm wavelength. The power (fluence) depends on the hair removal technique, for SHR the fluency is up to 20 J/cm2 that guarantees less discomfort, through gradual heating. The laser has a large spot size of 12 x 10 mm and has a repetition rate of 10Hz for SHR and 3Hz for HR, and contact cooling is standard for both hair removal techniques.
There are a number of different hand pieces for the Soprano ICE Laser system -
Diode Laser Alex - Best for a wide range of hair colours and types.
Compact - For versatility.
Speed - Offers a faster treatment time.
Diode Laser YAG - Specialised for darker skin types.
How Does it Work?
The Soprano ICE laser offers virtually painless Super Hair Removal thanks to an innovative cooling system, with cooling pumps surrounding the sapphire diode laser. The system work by gradually heating the dermis (skin) to the temperature required to damage the hair follicle and prevent regrowth. The hair follicle is damaged by targeting the pigmentation (melanin), which absorbs the light of the laser. This gradual heating is achieved by a high frequency of short pulses, whilst the ICE technology cools the skin on contact, preventing minor burns, for less painful hair removal (1, 2).
License Status
The Soprano ICE Laser is FDA approved in the United States for permanent reduction in hair regrowth on all skin types (I-VI) and has full CE mark clearance in Europe.
Should be Used By
The Soprano ICE laser should only be operated by trained professionals, be that medical professionals, or laser specialised beauty therapists. Safety features come as standard with each machine, and safety glasses should be worn at all times by the operator and the client.
What is it Used to Treat?
The Soprano ICE is used for the treatment of hair reduction. It is suitable for use on all skin types, including darker skin tones and tanned skin. It is also effective on lighter hair types, as well as darker hair. Plus, it can be used on all areas of the body, with a lighter applicator available for precision hair removal on the face.
The same Soprano laser system can also be used to treat benign vascular and pigmented lesions.
How Long Does it Last?
Following the recommended treatment regime, the hair reduction should be permanent, and clinical studies have shown a high level of client satisfaction (3). However, lighter hair is harder to treat as there is less melanin in the hair follicles, so you may need to return for a top up session after 1 or 2 years.
Hormonal changes (including pregnancy and menopause), and ageing could have an effect on the future possibility of regrowth of hair in areas previously treated. 100% permanent hair removal can never be guaranteed with laser hair removal.
Side Effects and Risks
Following a treatment session, there may be some mild irritation, itching and redness of the skin, and the hair follicles treated may be raised for up to 48 hours. Any more serious side effects, such as blistering, are rare – if adverse effects persist or cause major discomfort, a medical professional should be consulted immediately.
Not to be Used In
The Soprano ICE Laser system is suitable for all skin types and body parts, so as long as you are generally healthy and not suffering from any skin diseases or infections then treatment can go ahead.
However, it is not considered suitable for use on pregnant or breast feeding women, treatment is usually recommended to commence once either of these phases are over.
You should undergo a thorough consultation with a medical professional or laser specialist, before undergoing laser hair removal treatment to assess your suitability. A patch test may also be advised.
NOTE: Those with white or grey hair in the area to be treated are not suitable for treatment, as there is no pigment in the hair follicles for the laser to target so treatment will be ineffective.
Treatment Regime
Laser hair removal treatment with Soprano ICE is conducted every 6 weeks on the body, and every 4 weeks on the face. This is in order to capture and treat the hair at their most receptive phase of their growing cycle. The number of sessions will differ from person to person, but generally 6-8 treatments are required for optimum results and permanent hair reduction. Thanks to a large spot size area on the laser applicator, treatment is relatively swift, with smaller areas taking just 5 minutes.
Cost of Treatment
The cost of Soprano ICE laser hair removal treatment (per session), will depend on the area being treated, with the following approximate prices:
Area of Treatment

Prices from (approx.)

Face

Upper Body

Arms

Lower Body

Legs

£40 for smaller areas, up to £140 for the full face.

£60 for smaller areas, up to £320 for full back and shoulders.

£50 for hands, up to £150 for full arm.

£80

£40 for feet, up to £270 for full leg.
Often a package or treatment programme price will be available which offers a slight discount on the overall individual session cost.
Clinical Results
A study by Paasch et al 2015 (1) showed a high level of hair reduction at 88.8% using the SHR treatment method with no adverse side effects, as well as lower levels of discomfort, compared to the standard laser hair removal.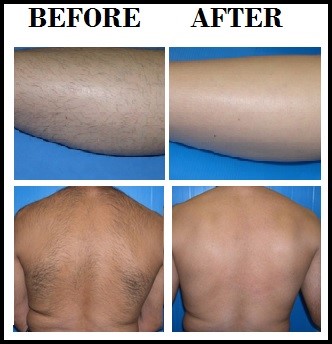 Images courtesy of Alma Lasers Clinical Department
Clinical Paper References
1. Paasch, U., Wagner, J. A., Paasch, H. W. (2015) Novel 755-nm diode laser vs. conventional 755-nm scanned alexandrite laser: Side-by-side comparison pilot study for thoral and axillary hair removal. Journal of Cosmetic and Laser Therapy Vol 17 (4): 189-193
2. Trelles, M. A., Urdiales, F., Al-Zarouni, M. (2010) Hair structures are effectively altered during 810 nm diode laser hair epilation at low fluences. Journal of Dermatological Treatment. Vol 21: 97-100.
3. Royo, J., Urdiales, F., Moreno, J. et al (2011) Six-month follow-up multicenter prospective study of 368 patients, prototypes III to V, on epilation efficacy using an 810-nm diode laser at low fluence. Lasers Med Sci Vol 26: 247-255.
Do you have a question? Ask one of our experts NOW