Product Summary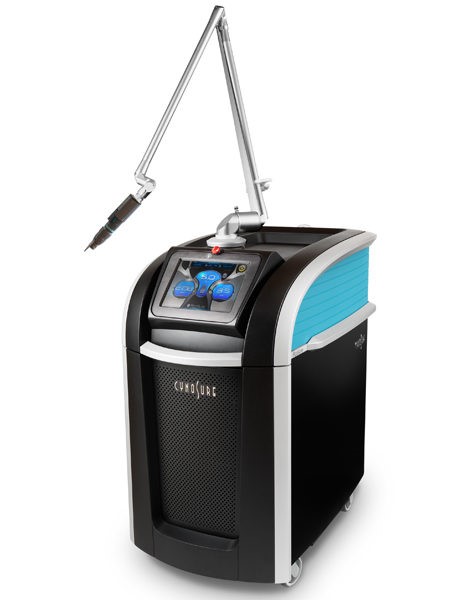 PicoSure was developed in the USA and was first introduced to the UK in 2013. It was launched by Cynosure, a world leader in laser and light-based treatments for minimally invasive and non-invasive aesthetic applications.
It was the world's first picosecond laser indicated for the removal of tattoos and benign, pigmented lesions, such as age spots.
According to the manufacturers, PicoSure is the number one picosecond aesthetic laser in the world - being fast and more comfortable than any other method, it has made the biggest headway in tattoo removal.
With the rise in tattoo adoption, often later regretted, tattoo removal has also become a more prevalent treatment culminating in advances in the technology and increases in the number of clinics offering the service. Research by Cynosure shows that 20% of people with body ink have tattoo regret.
Dr. Roy Geronemus, M.D. and Director of the Laser and Skin Surgery Center in New York conducted a study on PicoSure. In his trial, the multi-coloured tattoos that were treated with PicoSure indicated a greater than 80% overall tattoo clearance. According to Dr. Geronemus, the PicoSure laser's short pulse duration erases tattoo pigment more efficiently, leading to a higher level of patient satisfaction and improved results compared with current (Q-switched) technology.
Technical Specifications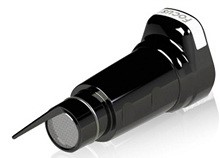 PicoSure is a multi-wavelength, picosecond laser technology, for instance, the 532nm hand piece option is designed to effectively treat yellow, orange and red tattoo ink colours. Another wavelength, the 755nm hand piece is used to target black, green and blue tattoo inks. Finally, the 1064nm hand piece is a wavelength designed to remove dark tattoo ink. 1064nm is a long-standing and commonly used laser wavelength for tattoo removal, skin treatment and pigmentation.
The FOCUS Lens Array can also be added to treat skin rejuvenation, pigmented lesions and acne scarring. It microscopically concentrates the pulses from the PicoSure to a precise depth to target these indications.
How does it work?
Q- switched lasers had been considered the gold standard for removing tattoos until the picosecond technology of PicoSure was launched.
Q-Switched laser treatments use intensive laser energy to heat up and break the tattoo ink particles into smaller pieces which the body can then remove more easily, but nowadays with picosecond lasers, like PicoSure, you will get a much gentler and more effective treatment. PicoSure laser tattoo removal doesn't use any heat; it uses ultra-short laser pulses which bombard the ink particles at very high pressure. The ink breaks down into tiny dust particles – they literally get shattered. The particles are then absorbed much more quickly and easily, and eventually get eliminated by the body as before. This makes PicoSure a faster and more comfortable procedure.
PicoSure is able to achieve significant clearance of darker ink tattoos after one session, with 75%+ removal possible with such tattoos following initial treatment. A tattoo made up of entirely black ink can be removed with just 4-8 treatments.
Most tattoos can therefore be removed within 6 to 10 months, which is considerably quicker than seen with older Q-switched technologies.
The practitioner is able to adjust the settings on the device to use the PicoSure Boost™ to change the pressure and output energy to increase the shattering effect of the delivery for particularly stubborn tattoo types.
If you have had past tattoo removal treatment with a Q-Switched laser and some stubborn pigment still remains, then picosecond technology is ideal to complete the job.
Licenced Status
European CE Marked since 2013.
Cynosure received United States Food & Drug Administration (FDA) clearance to market the PicoSure 755nm wavelength for the removal of tattoos and benign, pigmented lesions in December 2012. Treatment indication approvals were added to in July 2014 for acne scars and Sept 2014 for wrinkles, using the FOCUS lens array add-on.
Clearance for the 532nm wavelength came in February 2015, making the device dual-wavelength. They also received FDA clearance to market the newer 1064nm laser delivery system for PicoSure in May 2016. The 1064nm wavelength was introduced for removing the full spectrum of tattoo inks in fewer treatments, making the device multi-wavelength.
Should be used by
The laser system should only be used by trained members of the medical profession or advance trained laser specialists.
What is it used to treat?
The PicoSure pico-second laser system is used for tattoo removal, skin rejuvenation and acne scarring (using the FOCUS lens array add-on) and the removal of benign, pigmented lesions.
Side Effects & Risks
PicoSure is said to be less painful than other methods of tattoo removal or pigmented lesion removal, and the pain fades away quickly.
However, there will be discomfort. The level of discomfort you feel depends on the area where the tattoo/lesion is located and your personal pain threshold.
Another potential side effect is scarring. This rarely happens, and it occurs in less than 2% of patients in most cases. If scarring does happen, it is usually not very apparent. Vitamin E oil can be used to reduce the effect.
Scabbing, blistering or crusting with itching in the treated area are other things to expect from a PicoSure treatment, but they are positive signs that the treatment is working. You should not pick or scratch the area as you risk causing scarring. You should also not cover the area treated in any cosmetic products whilst it recovers.
Another possible side effect is hyperpigmentation or patches of darkened skin, as well as hypopigmentation or patches of lightened skin in the treated area where your natural skin's melanin has been affected. This is usually a transient problem which resolves.
Not to be used in
Use of the PicoSure laser may be avoided in certain areas of the body and in those with certain medical conditions.
Most clinics will not use the PicoSure laser for the removal of cosmetic tattoos (micropigmentation) for eyeliners, lip liners or eyebrows due to the difference in the pigment types used compared to normal tattoo inks, and the sensitive nature of the area. There is a risk that due to the nature of the pigments used in micropigmentation, especially lighter pigments used around the lips, that some colour from the mix used, perhaps an undesirable one, may remain after treatment. As semi-permanent make-up for eyebrows tends to use darker colours, some clinics will feel comfortable using PicoSure to remove that pigment. Please seek a clinic with practitioners trained in this advanced treatment should you be looking to have semi-permanent make-up removed.
Conditions that make you unsuitable for this treatment include:

• Active skin infections such as open wounds in the area to be treated
• Pregnancy and breast feeding
• Seizure disorders
• Those prone to keloid scarring
• Those with a medical implant may also be unsuitable
Treatment regime
For small tattoos, approximately 5cm2, treatment is recommended every 4 – 6 weeks.
For large tattoos, it is recommended that you wait 6- 8 weeks in between treatments to allow the area to heal before the next laser delivery.
The type of tattoo (professional or amateur), size of the ink particles and colours used, which require different types of laser wavelength use, all have a bearing on the number of treatments sessions you will need to clear the tattoo. An experienced practitioner will be able to evaluate your tattoo and its response to treatment to recommend a realistic number of treatments that you will need.
Due to the way in which the picosecond technology shatters the ink, you will need fewer sessions than with traditional Q-switched laser tattoo removal techniques. Small tattoos can be treated and leave virtually no trace in approximately 4 – 6 sessions.
Cost of treatment
The cost of PicoSure tattoo removal depends on the number of treatment sessions needed and the size and type of the tattoo. Expect to pay under £200 per session for a very small tattoo (e.g., small symbol on wrist or ankle), £300+ for a small one, and £500 - £1,000 for anything larger than 10cm2. Full arm sleeve or back tattoos are usually quoted on a case by case basis due to size.
For example, a small 5cm by 5cm tattoo which would take approximately 4 – 6 sessions should cost between £1,250 and £1,750 to remove.
Clinical Results
PicoSure was the first aesthetic pico-second laser for the safe and effective removal of tattoos and benign pigmented lesions. Clinical data shows better clearance in fewer treatments.

Successful and Rapid Treatment of Blue and Green Tattoo Pigment With a Novel Picosecond Laser
Jeremy A. Brauer, MD; Kavitha K. Reddy, MD; Robert Anolik, MD; Elliot T. Weiss, MD; Julie K. Karen, MD; Elizabeth K. Hale, MD; Lori A. Brightman, MD; Leonard Bernstein, MD; Roy G. Geronemus, MD, Arch Dermatol. Published online May 21, 2012.

Treatment of Tattoos With a Picosecond Alexandrite Laser: A Prospective Trial
Nazanin Saedi, MD; Andrei Metelitsa, MD, FRCPC; Kathleen Petrell, BS; Kenneth A. Arndt, MD; Jeffrey S. Dover, MD, FRCPC, Arch Dermatol. Published online September 17, 2012.

Picosecond laser with specialized optic for facial rejuvenation using a compressed treatment interval.
Khetarpal S, Desai S, Kruter L, Prather H, Petrell K, Depina J, Arndt K, Dover JS.
Lasers Surg Med. 2016 Aug 22.

Lasers in tattoo and pigmentation control: role of the PicoSure(®) laser system.
Torbeck R, Bankowski R, Henize S, Saedi N.
Med Devices (Auckl). 2016 May 2;9:63-7
Before and after photos
(Before and After photographs are real patients, your results may differ.)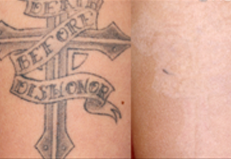 Photo courtesy of Cynosure, showing tattoo removal results with PicoSure.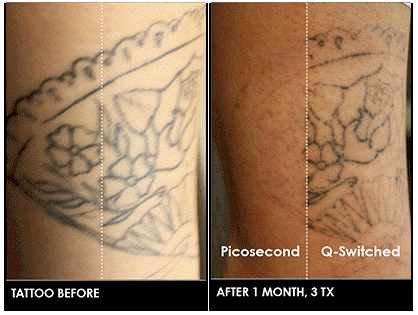 Comparison images showing treatment of a tattoo on one side with PicoSure and on the other with a traditional Q-switched laser. Photo courtesy of Cynosure.
Do you have a question? Ask one of our experts NOW