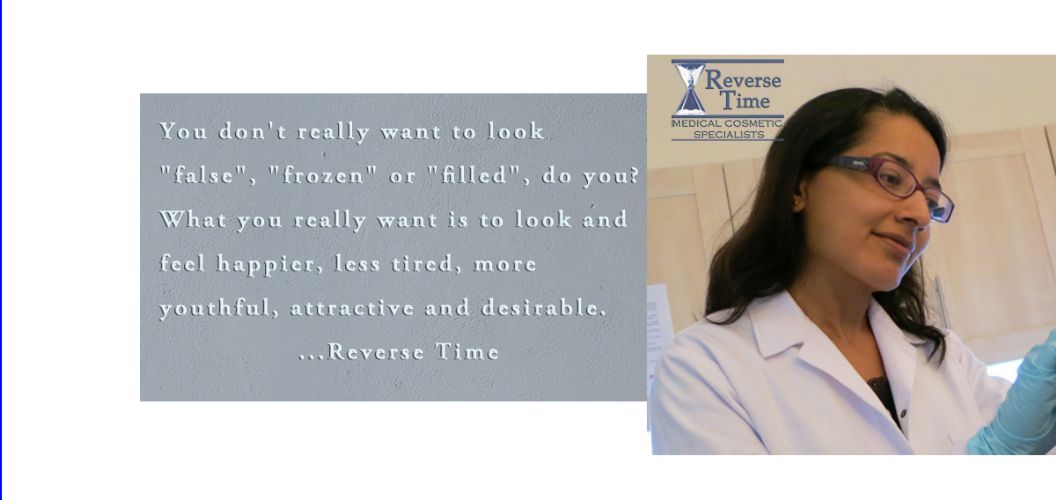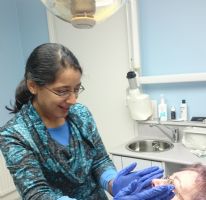 Reverse Time Aesthetic Treatments Reviews
31 Junction Road , Andover , SP10 3QU
0333 Reveal Number
Call Now
Reviews
---
Dr Aarti is a lovely lady who immediately put me at ease. She is very knowledgeable, with a calm, professional manner and really takes the time to listen to what you want to achieve and what treatment you are interested in. She's very honest and if she doesn't think you need it, will advise against it. In terms of the customer experience, it was far superior to the previous clinic I attended. I had complete confidence in Dr Aarti and wouldn't hesitate to recommend her to others.
Clinic Reply
Thank you Linda for your kind words!
---
Margaret Campbell
Location: Ringwood
February 1, 2016
When I visited Dr Aarti I was expecting to have treatment for the thread veins on my legs, after carefully examining my legs Dr Aarti advised me that the treatment would not have a lasting effect and I would get the same results by wearing compression socks. I was impressed by Dr Aarti's honesty and advice. I would not hesitate in recommending her to my friends and family.
---
Sharon s
Location: London
December 11, 2015
Aarti, is a extremely professional and the results are amazing. She has an eye for detail which mean the overall effect is brilliant. I have visited Aarti a number of times an have been very please with the results.
---
Jan Hayter
Location: Winchester
July 20, 2015
I recently had Botox and was very pleased with the results,Dr Aarti Narayan is professional and knowledgeable,she is happy to spend time giving advice, I would be more than happy to recommend.
---
Rosalind Copeland
Location: Winchester, UK
July 20, 2015
Aarti is incredibly professional and always ensures she is doing the right thing by her patients, and never encourages excessive treatments. She listens to what your needs are, and then discusses the options. She made me look ''fresh'' rather than ''frozen'', and also helped me with advice on more general skin care troubles and routine suggestions. I work in London, but will always find the time to visit Aarti, as I can''t imagine finding anyone more trustworthy and excellent at their job.
---
Erika Styles
Location: Portsmouth
June 13, 2013
Dr Denning carried out Lip Enhancement at the new Changes Clinic in Portsmouth early June 2013. I had received this type of treatment from a SK:N clinic years ago with only a numbing cream so experienced a massive amount of pain and very poor results so had decided not to have it again. I changed my mind when I heard about Changes Clinic and met with Dr Denning. Within minutes of my consultation I knew I wanted to proceed as she explained what she would be doing and that I would experience minimal pain as she would be injecting the entire area to ensure I was completely numb. Dr Denning was professional and knowledgeable with a lovely ''bedside manner''. I would highly recommend both Dr Denning and Changes Clinic
---
M Evans
Location: southampton
April 16, 2013
Dr Aarti Narayan has been treating me now for almost 2 years, again having been previously disappointed with results from other clinics when I did meet Aarti for my initial free consultation I was pleasantly surprised and immediately at ease and felt that I was in good hands. She exceeds patient expectations and in fact when it became difficult for me to travel to the clinic she offered to continue my treatments at home. I have now had multiple treatments including facial injectable and dermal fillers to reduce the appearance of facial scaring which I have always had personal concern about. I have consistently been astounded with the natural looking results. Dr Narayan is professional, highly qualified and experienced and in my opinion she has a unique flair for Aesthetic treatments which really requires an eye for detail. She is a genuine lady who is truly interested in taking the time to listen to her patients needs - I cannot recommend her enough.
---
Alan Brewer
Location: Catherington
April 10, 2013
Before having this type of work undertaken I did extensive research and saw no less than twelve practitioners. Only three were Doctors. I felt far more confident having a Doctor with their associated knowledge carry out this work than someone in the beauty business that had merely attended a course. Dr Aarti, demonstrated great knowledge and instilled me with confidence, I also felt that she wasn't just profit-driven. She took the time to ensure that she was using the right product and applied in the right way. She took great care throughout the procedure and I am supremely confident that it has been applied in a very thorough and professional way. While cost, which is important, was not my prime consideration, which was to find an able and competent practitioner, the cost was better than comparable. I'm returning for further work in the near future. While Dr Aarti's professionalism is impeccable, she is a very personable and pleasant person to deal with on a personal level also. I am absolutely ecstatic with the results so far. I thoroughly recommend Aarti. 5*
---
vanessa cloete
Location: hungerford
March 26, 2013
I had Fillers done by Dr Aarti Denning. She took her time, explaining to me step by step what she would be doing, I asked questions, and they were answered. I would recommend Dr Denning to any one who would like any beauty treatment done. And I am so please with the results, and she will be seeing me again. Thank you DR Denning.
---
K Pike
Location: Portsmouth
February 23, 2013
I had a facial dermal filler treatment with Dr. Aarti Narayan, at the Simon Davies clinic in Southsea. Aarti is professional and confident with an easy going manner that helped me to relax. She took time to explain the treatment in detail beforehand and answer all my questions. I am really pleased with the results which have left my face fresher and younger without looking un-natural. I would would recommend her to anyone seeking this kind of treatment - Thank you.
---
L M
Location: Home
January 28, 2013
Dr Aarti Narayan visited me at home for full forehead injectables. She was happy to spend time discussing any issues I had and giving me her informed opinion of what could be achieved. The results were very effective but natural without that obvious ''done'' look so often seen. I was very happy with the professional and knowledgeable treatment I was given and would be more than happy to recommend.
---
Consulting Room is the ONLY online cosmetic clinic search directory, for the UK & Ireland, who check that all clinics listed with us are compliant with relevant regulatory requirements for the provision of cosmetic surgery, medical aesthetic treatments, hair transplant surgery and cosmetic dentistry. To find out what this means, why you can have peace of mind and trust the checks we do for you click here.