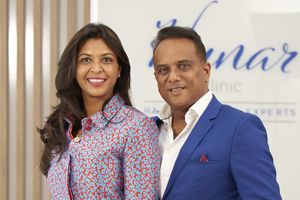 Hunar Clinic Treatments
Old Amersham Road , Gerrards Cross , SL9 7BG
0175 Reveal Number
Call Now
Extra Treatments
---
Lipoedema
Lipoedema is a fat disorder ,mainly affecting women, which leads to abnormal accumulation of fat in certain parts of the body making it look out of shape or proportion. It mainly affects the lower limbs causing disproportionately large lower body in comparison to upper body.
A lot is still unknown about lipoedema esp what causes it? What we do know so far is that it is a slowly progressive condition and pace of progression varies from one patient to another. Genetics is known to play a significant role in combination with a hormonal imbalances inside the body which can mainly happen around puberty,pregnancy,menopause etc and most women can notice an obvious trigger of their condition around those events in their life. It can affect several generations of a family.
Most commonly encountered symptoms by lipoedema patients are- disproportionate fatty distribution unresponsive to any form of diet & exercise, easy bruising to slightest trauma and feeling of heaviness and pain.
As it is described as a progressive condition hence there is no permanent cure for it. However, there are conservative and surgical treatment options available to contain and slow down the progression of disease in order to improve the quality of life of the patient.
Conservative therapy in the form of manual lymphatic drainage (MLD) can help to reduce oedema but it has no effect on fat volume. Fat removal or liposuction remains the only method to reduce the bulk of fatty deposits. It is very important to choose the correct form of liposuction when treating Lipoedema. Microliposuction seems to be the safest and least invasive option for lipoedema sufferers for a better long term prognosis.
Dr Puneet Gupta at Hunar Clinic has helped many people with lipoedema. Dr Gupta was trained in the technique by the creator of the surgery, Dr Jeffery Klien, and is one of the only surgeon in Europe to practice it.
Price - discussed on consultation
Link- https://www.hunarclinic.co.uk/treatments/lipoedema/
Consulting Room is the ONLY online cosmetic clinic search directory, for the UK & Ireland, who check that all clinics listed with us are compliant with relevant regulatory requirements for the provision of cosmetic surgery, medical aesthetic treatments, hair transplant surgery and cosmetic dentistry. To find out what this means, why you can have peace of mind and trust the checks we do for you click here.