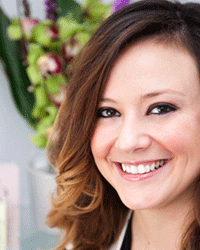 Dr Michele Engel
We are delighted to have appointed Mica to join us at number twenty-one. She has a commitment to aesthetic medicine and this has been her chosen specialty since she graduated in Brazil. She represents a new generation of doctors with a true scientific background to aesthetic medicine, and she has the technical skills as well as the assessment techniques. She has a very soft touch and patients find her both reassuring and consistently excellent in providing high quality results." Norman Waterhouse, Internationally renowned Cosmetic Surgeon Co-founder of the Waterhouse Young Clinic Dr. Michele Engel, known as Mica, graduated in General Medicine in 2004 in Brazil where she began her medical career as a GP and A&E doctor. In Brazil, she trained with the eminent plastic surgeon Mauricio De Maio and took his masterclass on the liquid facelift. Working with dermal fillers, she learned a series of sophisticated injection techniques to achieve subtle enhancements. Mica then moved to Italy where she studied preventative medicine at the University of Udine. While there, she studied anti-ageing treatments and discovered her passion for cosmetic medicine. Since arriving in London in 2007, Mica has built an outstanding reputation within the field of cosmetic medicine. Her deep understanding of facial structure means she can achieve natural looking results by using precise, but subtle, techniques. Her specialties include wrinkle relaxing and dermal filler injections, non-surgical neck and facelifts, cheek and chin augmentation and lip enhancement. She's been a cosmetic doctor in the UK for over five years, treating thousands of patients a year with flawless results. She believes skin care is the basis of every good treatment and that true beauty is achieved by enhancing facial features, not creating new ones.
Dr Michele Engel works as part of the Waterhouse Young Clinic team.
21 Devonshire Street, Marylebone, London, W1G 6PB
Click Here for more information about the clinic.
Please Share This Page
Please fill in the from below to contact Waterhouse Young Clinic