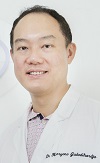 ---
MB BCh, MSc, PhD.
Dr. Harryono Judodihardjo is the Medical Director of Cellite Clinic Limited in Cardiff. He is a Dermatologist and is a Member of the British College of Aesthetic Medicine (BCAM), formerly the British Association of Cosmetic Doctors (BACD).
He is very experienced in several pioneering techniques including Fat Transfer for Breast Augmentation, Pure Tumescent Liposuction and Follicular Units Hair Transplant, all done under local anaesthetic.
A highly respected figure in the industry, Dr Judodihardjo has trained many doctors in Aesthetic Medicine and is regularly invited to lecture in this field both nationally and internationally.
Dr. Judodihardjo is a Fellow of the Royal Society of Medicine, and a Member of the International Academy of Cosmetic Dermatology, the European Society of Cosmetic and Aesthetic Dermatology, the British Association of Dermatologists, British Association of Hair Restoration Surgeons, British College of Aesthetic Medicine, to name but a few.