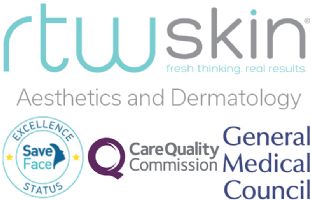 rtwskin Videos
Cobden House Medical Centre, 25 London Road , Tunbridge Wells , TN1 1DA
01892 Reveal Number
Call Now
What is CO2 Laser Resurfacing?
If you are looking to treat lines and wrinkles on the face and neck area, tighten loose skin and improve your overall skin texture and tone then Co2 Laser Resurfacing may be the treatment for you.
Consulting Room is the ONLY online cosmetic clinic search directory, for the UK & Ireland, who check that all clinics listed with us are compliant with relevant regulatory requirements for the provision of cosmetic surgery, medical aesthetic treatments, hair transplant surgery and cosmetic dentistry. To find out what this means, why you can have peace of mind and trust the checks we do for you click here.
My Laser Tattoo Removal Story
Sacha came to our clinic in 2014 to remove a back tattoo which really dented her confidence. It's been three years since her last treatment and we welcome her back to rtwskin to discuss her journey...
How Does Hand Pigmentation Removal Work?
They say your hands are one of the biggest age giveaways. We use the Q-Plus C Laser from Quanta systems of Italy to treat pigmentation on the hands, face and body.
Xanthelasma Client Testimonial
Greg came to us in April 2019 with two medium-sized Xanthelasma's under each eye and he is over the moon with the results of his procedure.
My Profhilo Story
Melissa has never been so happy with a treatment result as she was with her recent Profhilo procedures. Her skin is plumper, brighter and fine lines have been beautifully minimised.
The History of rtwskin
We all worry about our looks, and possibly other aspects of our bodies which may benefit from a touch of cosmetic care. John and Nina Sheffield are the founders and Directors of leading Tunbridge Wells skin and Dermatology clinic, rtwskin. They share their story on what inspired them to set up rtwskin and how they have managed to make it so successful in just fourteen years.
Watch Facial Vein Removal With Fotona Laser
See this demonstration of Facial Vein Removal With Fotona Laser.
Watch Mole Removal With Fotona Laser
Laser mole removal with the Fotona Er.YAG laser is quick, permanent and cost effective. Rtwskin team have removed over 500 moles in the last year.
How Does Silhouette Soft™ work?
Instead of a scalpel, the procedure involves using thread cones made of polylactic acid (PLA) – a polymer which is human biocompatible and 100% biodegradable; the same thread in fact that has been used for years for years in reconstructive surgery. After injections of local anaesthetic to numb the areas, the thread is carefully and expertly drawn through the skin in the predetermined areas. Once in place, slight, even pressure is applied on the treated area to smooth and reshape the surface of the skin into the desired position.
Aksana Aesthetic Nurse @ Rtwskin
Introduction to our clinic
How does Thread Vein Removal get rid of Thread Veins?
A Thread Vein Removal case study by Tunbridge Wells Skin and Laser Clinic. We use Laser treatment and IPL for the quick removal of thread veins of all sizes in just 2-5 treatments. The most effective method for smooth and blemish-free skin. Lasers and IPL can remove unattractive thread veins on the body including face, body and legs. Our laser treatments effectively remove thread veins from large to small usually in two or three sessions and leave your skin blemish-free and smooth. You will receive home care advice which must be adhered to in order to achieve the best results. The treatment is non-invasive for veins between 1-4mm. Thread veins mostly affect the face and legs and although extremely common can sometimes be embarrassing. They can appear due to many factors including inherited genes, lifestyle or hormonal imbalance.
All about Botox Injections for Men
A Botox case study for Tunbridge Wells Skin and Laser Clinic. Many of our customers at Royal Tunbridge Wells Skin & Laser Clinic choose Botox treatment here for our quality procedures and trusted expert practitioners.  Botox is fast becoming a common anti-aging treatment dude to its highly effective active ingredient; onabotulinumtoxinA. It temporarily relaxes the body's impulses from the nerves to the facial muscles while it works its magic. The recovery period is little to none and suitable for all ages. Results can be seen within days with the effects lasting for three to four months after which we recommend repeat Botox treatment after this period to prolong our patients results.
How Does Laser Tattoo Removal Work?
The world's most advanced and effective, multi-frequency 'Q Switched' Laser tattoo removal. Clears tattoos of every colour. When considering your tattoo removal there are a few approaches to consider including surgical excision and injection acid. Surgical excision will leave a scar but is very effective. However if the tattoo contains iron or titanium oxide sometimes this may be the only option available to you. Although at a slight expense, we can refer you to a first class plastic surgeon. Unfortunately availability of this treatment has been discontinued on the NHS. In terms of injection or over tattooing with acid treatment, you may be better served to keep the tattoo as this procedure will leave a mark far worse than the original tattoo and is likely to scar.